Countdown to Christmas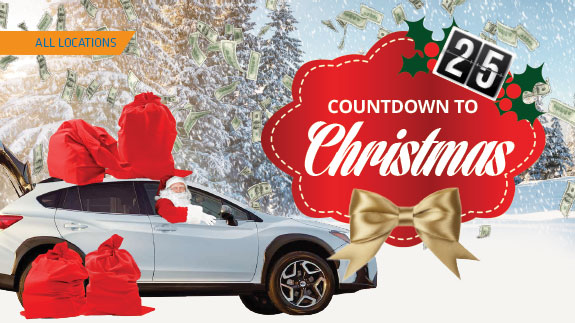 25 DAYS TO FILL YOUR NEW SLEIGH!
It's beginning to look a lot like … you know, incredible prizes. And starting November 25, you an earn entries for every 25 points. Then, if you've been good, Shooting Star Santa may be extra nice to you and give you his brand new Subaru Crosstrek to load up with even more cash.
PRIZE DRAWINGS – SUNDAYS, DECEMBER 1, 8, 15 & 22!
CASH DRAWINGS EVERY HOUR | 4PM – 9PM
CHANCE TO WIN $1,000! | 8PM
GRAND PRIZE CHRISTMAS DAY – WED, DEC 25!
WIN UP TO $1,000 CASH | 4PM – 9PM
CHANCE TO WIN SUBARU CROSSTREK! | 8PM