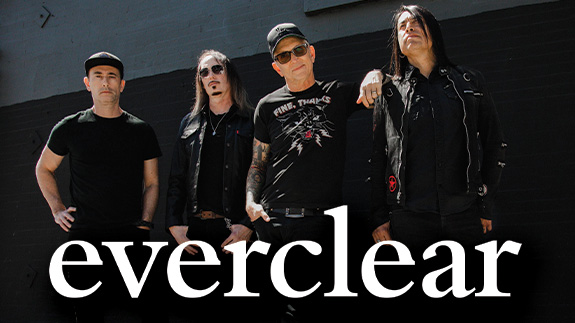 Considering Everclear has written and recorded some truly iconic '90s alt-rock hits, it would be all too easy these days for the band to be a victim of its past successes, relegated to performing as a glorified jukebox, existing to satisfy the nostalgic cravings of Gen Xers everywhere. But singer-guitarist Art Alexakis isn't about to start phoning it in now.
Everclear continues to tour extensively, and while it's a virtual surety that no Everclear gig is complete without a rendition of "Santa Monica" and "Father of Mine," lately the band has found that exploring the full range of past material—especially the "deep cuts"—not only gives fans a rare treat, it also injects new life into the band's live dynamic.
Formed by Alexakis in 1991 in Portland, Oregon, Everclear has enjoyed a lengthy career spanning 11 studio releases, numerous videos, thousands of shows and accolades that include a 1998 Grammy nomination. Other top hits include, "Wonderful," "AM Radio," "I Will Buy You a New Life" and "Everything to Everyone." If you're a '90s music fan, you don't want to miss this show.
Tickets go on sale Monday,  March 27 at 9am!
Star | $47
Select | $24