Lucky Leprechaun Loot Giveaway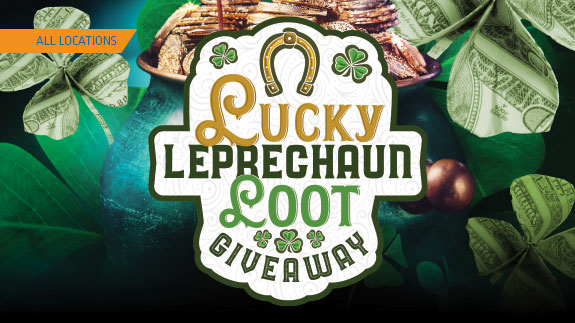 YOU'LL BE "DUBLIN" OVER WITH GLEE!
WIN A POT UP TO $3,000!
Sundays, July 19 & 26 | 4pm – 9pm
More than just a wee bit o' fun, we'll be having pots full. We're continuing the good 'ole Irish luck we didn't get to finish in March. Starting June 19, earn 50 points to receive an entry. Also, entries earned in March will carry over.
$500 CASH DRAWINGS EVERY HOUR | 4PM – 9PM
GRAND PRIZE DRAWINGS – SUNDAYS, JULY 19 & 26| 4PM – 9PM
$3,000 CASH | 8PM
BONUS ENTRIES: EVERY MONDAY AND WEDNESDAY EARN 50 POINTS AND RECEIVE DOUBLE ENTRIES!