October Off-Road and Cash Giveaway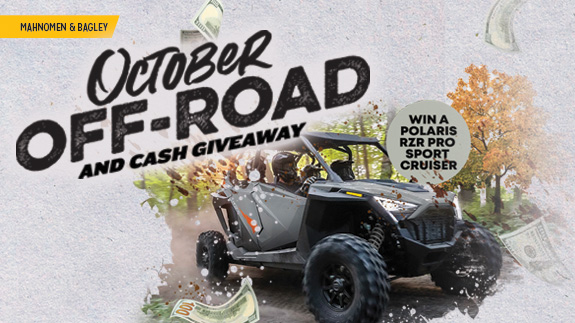 WIN YOUR SHARE OF $70,000 IN CASH AND PRIZES!
Mahnomen & Bagley
Sundays in October | 4pm-9pm
Fall is here and what better way to enjoy it than speeding through the falling leaves in a new Polaris RZR Pro Sport Cruiser! To get entered earn 25 points on your Star Rewards card September 26 through October 30.
BONUS ENTRIES
Saturdays in October | Earn 50 points | 100 bonus entries!
Sundays in October | Cash drawings every half-hour | 4pm-9pm | Win up to $1,500 cash!
GRAND PRIZE DRAWINGS | SUNDAY, OCTOBER 30 | 7PM
2 | $1,000 Cash Winners
1 | Polaris RZR Pro Sport Cruiser Winner
1 | $3,000 Cash Winner