PARACON 2018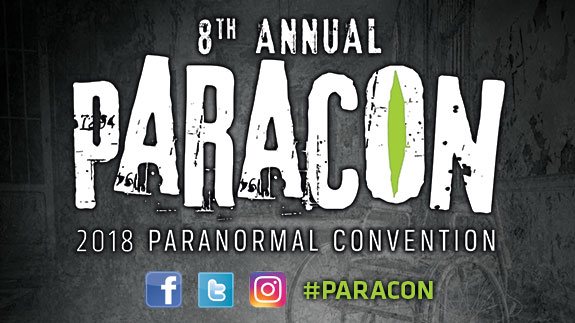 October 12 – 13
Special VIP Dinner – Thurs, Oct 11
Meet the Stars at PARACON 2018!
SPECIAL GUEST: Saturday, October 13
Austin Amelio | Dwight | The Walking Dead
Nick Groff | Executive Producer/Host Paranormal Lockdown,
Ghost Adventures and Ghosts of Shepherdstown
Elizabeth Saint | Ghosts of Shepherdstown
Dave Schrader | PARACON MC/Darkness Radio
Grant Wilson | Ghost Hunters
Steve Gonsalves | Ghost Hunters
Dave Tango | Ghost Hunters
Chip Coffey | Psychic/Medium
John Zaffis | Haunted Collector
Jael De Pardo | Destination Truth/Haunted Highway
Erin Ryder | Destination Truth
Jordan Ladd | Scream Queen "Cabin Fever"
Erin Marie Hogan | Scream Queen "Paranormal Entity"
Nick Redfern | Cryptozoologist
Loren Coleman | Cryptozoologist
Tory Belleci | Myth Busters
Tickets go on sale Tuesday, September 4.
Click to view Presentation Schedule
Subject to Change.
BAGS AND BACKPACKS:
Bags and backpacks are not allowed in the Event Center. Small clutch bags, no larger than 8.5 inches x 5.5 inches, are allowed and are subject to inspection by Shooting Star Staff or Security when entering the Event Center or at anytime while inside the facility.
CAMERAS AND VIDEO EQUIPMENT:
Still cameras are permitted in the Event Center on an event by event basis. Video cameras are not allowed and will be confiscated if brought into the arena.