White Earth Nation's Veterans PowWow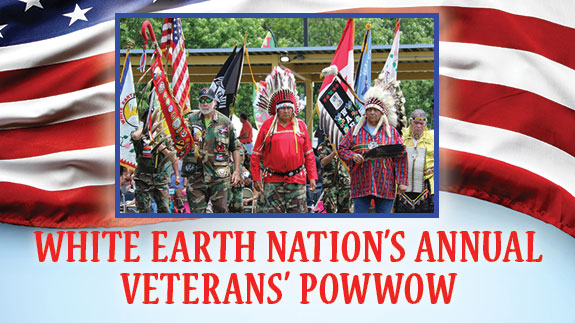 Grand Entry – 1pm & 7pm
Feast – 5pm
Shooting Star Event Center
Master of Ceremonies: Murphy Thomas
Spiritual Advisor: Tim St. Clair
Arena Directors: Lucas Hisgun & Sonny Wadena
Host Drums: Little Bear & Smokey Hills
All Royalty Invited.
For more information, contact: Shelly Weaver (218) 261-3057
Vendor Information, contact: Missy Fairbanks (218) 401-0553
Dancers are asked to register each session in regalia. Drums must have at least 4 singers per drum.
Not responsible for accidents, injuries, thefts or short-funded travelers.
Absolutely no drugs, alcohol or weapons allowed.