Williams & Ree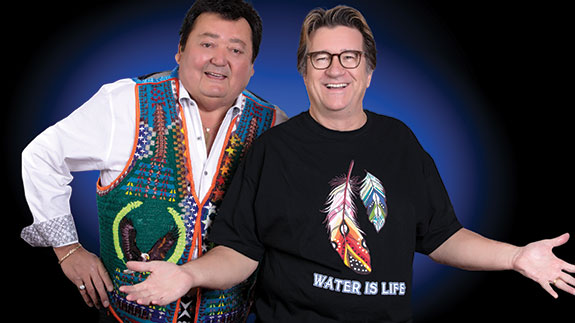 Williams and Ree, the self-professed "Indian and White Guy," have been entertaining audiences around the world with their unique and irreverent comedy/musical style for over three decades. Bruce Williams and Terry Ree have established themselves as proven headliners at fairs, festivals, arenas, and casino venues. They continuously refresh and reinvent themselves show after show by incorporating topical and observational humor "dripped from the headlines." The sheer longevity of this dynamic duo has allowed them to attain legendary status and point up the fact that they are truly America's favorite comedy team!
Show starts: 8PM
*Ending times may vary.
Tickets:
Star – $28
Select – $22
General – $12
Tickets go on sale Monday, September 23 at 9AM.
NOTE: SHOOTING STAR DOES NOT ACCEPT TICKETS PURCHASED THROUGH OUTSIDE COMPANIES.
All ticket sales are final.
Guitars From The Stars
Win one of ten $100 drawings or an autographed "Guitar from the Star" after the show!
Register any time the day of the show by bringing your ticket stub to Star Rewards. Must be actively playing using your Star Rewards card. Drawings held after the show.
See Star Rewards for details. Based on availability. If autographed guitar is unavailable, winner will receive cash prize.