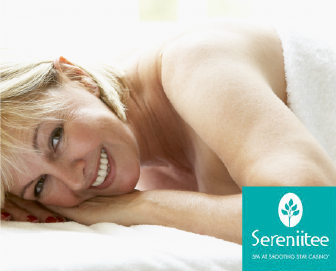 FIND SOME PEACE AT SERENIITEE
Indulge in relaxing therapies and treatments designed to rejuvenate your body, mind and spirit. Using our exclusive Sereniitee Spa products, our skilled and attentive staff will pamper you from head to toe. Take advantage of our signature line of Sereniitee Spa products and gift packages to take a feeling of Sereniitee home with you!
Star Rewards member age 50+ receive 50% off one regular priced Individual spa service**
Hours*
Tuesday | 8:30AM – 5:30PM
Wednesday – Friday | 8:30AM – 4:30PM
Sat | 9am – 3pm
Call us to book a time!
Reservation: 218.936.2626
**Valid only on All-Star Tuesdays.
*Hours subject to change
SPA SPECIALS
JANUARY  – MARCH SPA SPECIAL
20% OFF BODY WRAPS!
It's cold outside! Get wrapped up in one of our warm body wraps and receive 20% OFF!
No Coupons needed. Cannot be combined with other offers.
50% OFF SPA TUESDAYS
Star Rewards members 50+ receive 50% off one regular priced individual spa service.
*Valid Tuesdays only on All Star Day.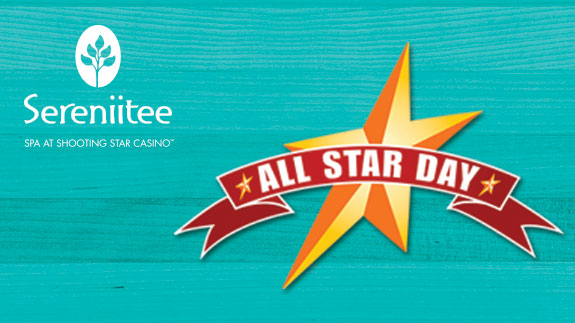 EVERYTHING YOU NEED TO KNOW
RESERVATIONS

Walk-ins are welcome. However, we highly recommend that you make reservations in advance to ensure the best spa experience.
CANCELLATION NOTICE

As a courtesy to other guests and therapists, please let us know 24 hours in advance to reschedule or cancel an appointment to avoid being charged for a scheduled appointment. Please note that if you arrive late for your appointment, it will end as scheduled to prevent delaying the scheduled guest.
AGE REQUIREMENT

The Serenitee Spa is for adults 18 years or older. Those 17 years or younger may enjoy select spa services if accompanied by a parent or legal guardian.
WHAT SHOULD I WEAR?

All guests receiving treatments at Serenitee are provided a locker, plush robes, sandals, towels, amenities and hair dryers. Hotel guests, please leave jewelry and other valuables in your room. Our day guests are responsible for any items left in the locker room.
DISROBING

Your comfort is our utmost priority. We provide private areas where you can disrobe and get dressed discretely and comfortably.
WRAPS

Drink plenty of water prior to your appointment. Women, please wear either a two-piece swim suit (non-slick) or panties (cotton) and a bra during the wrap (a regular bra is preferred to a sports bra). Men, please wear briefs or boxer briefs. Have dry undergarments to wear afterwards.
HOW EARLY SHOULD I ARRIVE FOR SERVICES?

Please arrive 20 minutes prior to your appointment in order to check in, change into a robe, complete paperwork and relax before enjoying services in our Tranquility Lounge.
NOURISHMENT

We provide complimentary beverages and healthy snacks in the Tranquility Lounge.
PREGNANCY

Please inform the front desk and your service providers if you are pregnant so we can customize your service for you and your baby.
GIFT CERTIFICATES

Our gift certificates are perfect for any occasion and may be used towards our spa services or retail products.