Starship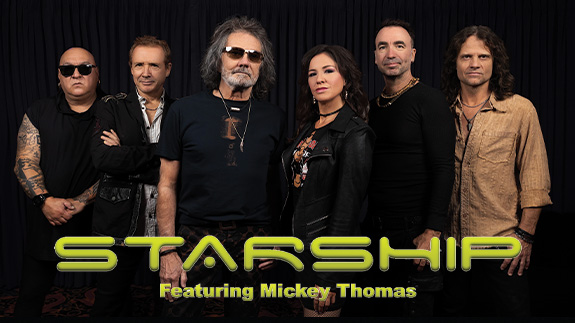 Featuring Mickey Thomas.
Mickey Thomas is the owner of the soaring voice that propelled STARSHIP through the decade of the 80's.
In 1979, Mickey joined Jefferson Starship as the lead vocalist, after the departure of Grace Slick and Marty Balin, and recorded a string of hits including "Jane", "No Way Out", "Find Your Way Back", "Stranger", and "Layin' It on the Line".
The group was renamed STARSHIP in 1985 and went on to record three #1 hit songs including "We Built This City", "Sara", and "Nothing's Gonna Stop Us Now", from the film Mannequin which also was an Academy Award nominee. Their hit "It's Not Over Til It's Over" became Major League Baseball's theme in 1987
One can expect to hear hits from STARSHIP and Jefferson Starship at STARSHIP's live performances, as well as a few selections from Jefferson Airplane as a nod to both band's beginnings.
Tickets go on sale Monday, December 12 at 9am.
Star | $36
Select | $26
General | $18