Star Rewards
More Rewarding.
From the Earth to the Stars.
The Star Rewards program lets you shoot for the stars with the most exciting and robust players club program around! Take your gaming and fun higher and higher with five incredible levels offering a variety of benefits to make every visit an amazing experience. From our easy-to-earn points system, instant cash back, better comps and great discounts to exclusive access to special promotions, parties and events, Star Rewards makes it even easier to reach the next level. From the Earth to the Stars.
Win/Loss Statement form: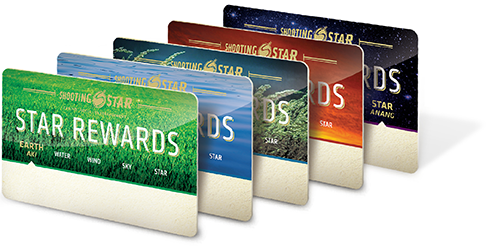 Info
YOUR ULTIMATE ACCESS TO FUN!
Complimentary concerts
Exclusive event
VIP parties
We pay you more for your play
Cash in with better Cash back
Spa discounts
Gift shop discounts
Hotel suite upgrades
AND SO MUCH MORE! Click the Benefits button to find a full list of why you should join today!
Levels
star

/

anang /

55,000+ Points

Better rewards are written in the stars. It's true, with the highest discounts and most comps we offer, you'll be shining bright every day! Reach for the stars and experience a whole new level of star-studded rewards.
sky

/

GIIZHIG /

25,000 – 54,999 Points

Get ready for benefits that are sky high! With even more comps like concert and event tickets, suite upgrades and higher discounts on all the things you enjoy at Shooting Star, we're taking your rewards to a higher level. Here, the sky isn't the limit.
WIND

/

NOODIN /

 

12,000 – 24,999 Points

Earning rewards with your Wind card is a breeze! That's because a whole gust of new benefits are blowing your way – like complimentary drinks, food and hotel stays. Not to mention limo/shuttle service. These comps are based on play, so play like the wind!
WATER

/

NIBI /

4,000 –11,999 Points

For more fun, just add Water! Offering everything the Earth card gives you – only with higher discounts – you'll surely realize that the thrill waters run deep at Shooting Star. Come on in. The water is perfect!
EARTH

/

AKI /

0 – 3,999 Points

We'll take care of you to the ends of the earth – then, even farther! With hotel, spa, gift shop and concert ticket discounts, as well as great cash back and point redemption services, it's the best card on earth.