Employment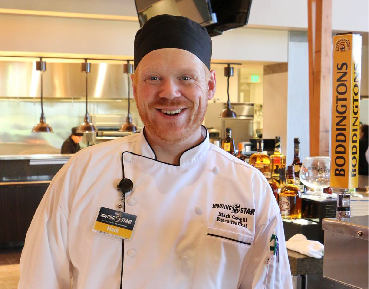 a stellar place to work
We're always looking for talented folks who want to give our guests the Star treatment.
Or call Human Resources at 218.936.2549 to have an application mailed to you. You can also check out our current job openings on the Shooting Star Casino Job Hotline: 888.683.9675 or email ehiring@starcasino.com for more information.
OPEN HIRE EVENT - WED, SEPT 12
JOIN OUR TEAM – FOOD and BEVERAGE OPEN INTERVIEW EVENT!
SHOOTING STAR CASINO, MAHNOMEN
Competitive Wages. Exceptional Benefits. Career Advancement.
Wed, Oct 10 | 2pm – 5pm
Interview Location: Event Center, Mahnomen
Refreshments will be served.
Interviews for Mahnomen Only.
Many positions available!
Smoke
2ONE8
Mino Wiisini
Tim Horton's
Traditions Buffet
Mustang Lounge
Check out our Shooting Star Casino job descriptions and ask us about our benefits. We will have department supervisors, managers and directors on site to answer questions and to interview.
HR Office: 218-936-2549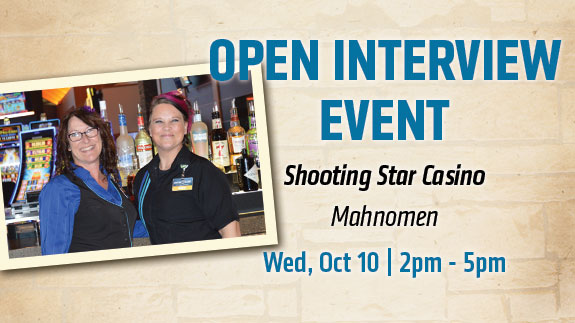 OPEN POSITIONS
Looking for New Team Members! Room Attendants, General Maintenance, Mino Wiisini Cafe Cooks and Cocktail Servers, Full & Part-time Positions Available!
Anyone applying for BAGLEY casino positions, please be aware if hired you may be working multiple positions.
NOW ACCEPTING POSITIONS FOR FOOD & BEVERAGE
NOW ACCEPTING POSITIONS FOR SECURITY GUARD
employment details
We offer our team members the best benefits with STARTING WAGES FROM $7.75/HR PLUS TIPS TO $10.44/HR, including shift and weekend differentials $1.25 to $2.50/hr OR MORE!*
Best wages in the area with new living wage and salary plan
Employer-funded medical, dental, vision and life insurance
Employer-funded defined benefit retirement plan
Flexible spending account
Employee assistance program
Paid time off
Reduced meal
Disability insurance
Dental
Free parking
Team member fun events
Education assistance
*Shift differential of $1.25 more/hr for swing and night shift and an additional weekend differential of $1.25 more/hr. Requirements based on position. Available for hours worked after a team member completes their 90-day probationary time frame.