Employment
Shooting Star Employment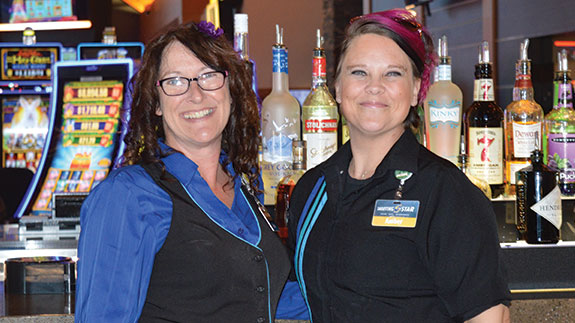 A STELLAR PLACE TO WORK!
We're always looking for talented folks who want to give our guests the Star treatment.
Or call Human Resources at 218.936.2549 to have an application mailed to you. You can also check out our current job openings on the Shooting Star Casino Job Hotline: 888.683.9675 or email ehiring@starcasino.com for more information.
OPEN POSITIONS
Looking for New Team Members! Room Attendants, General Maintenance, Mino Wiisini Cafe Cooks and Cocktail Servers, Full & Part-time Positions Available!
Anyone applying for BAGLEY casino positions, please be aware if hired you may be working multiple positions.
NOW ACCEPTING POSITIONS FOR FOOD & BEVERAGE
NOW ACCEPTING POSITIONS FOR SECURITY GUARD
OPEN HIRE EVENT!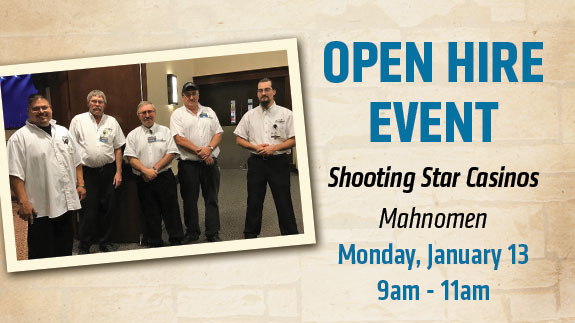 JOIN OUR TEAM – OPEN HIRE EVENT!
Monday, January 13 | 9am – 11am
Interview Location: Golden Eagle Bingo Hall, Mahnomen (Use South Entrance – signs will be posted)
Hiring for Mahnomen only.
Please plan ahead, the process may take up to 2hrs per person.
Open Hire Event includes: Interviews, Drug Testing and In-Processing for eligible applicants. Minors who are 16 – 17 years old will be placed primarily in a Non-Gaming department and may handle cash. A completed application must be submitted to HR and cleared thru White Earth backgrounds by Thursday, January 9 to complete the whole process. (Must provide 2 forms of valid IDs – one photo ID – to interview.
employment details
We offer our team members the best benefits with STARTING WAGES FROM $7.75/HR PLUS TIPS TO $10.44/HR, including additional shift and weekend differentials of $1.25 to $2.50/hr!*
Best wages in the area with new living wage and salary plan
Employer-funded medical, dental, vision and life insurance
Employer-funded defined benefit retirement plan
Flexible spending account
Employee assistance program
Paid time off
Reduced meal
Disability insurance
Dental
Free parking
Team member fun events
Education assistance
*Shift differential of additional $1.25/hr for swing and night shift and an additional weekend differential of $1.25/hr. Requirements based on position. Available for hours worked after a team member completes their 90-day probationary time frame.