The Beach Boys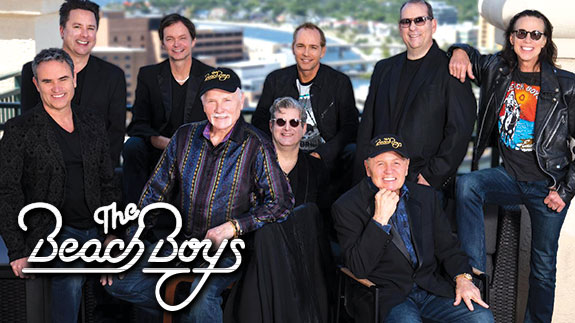 You can capsulize most pop music acts by reciting how many hits they've had and how many millions of albums they've sold. But these conventional measurements fall short when you're assessing the impact of The Beach Boys. This band has birthed a torrent of hit singles and sold albums by the tens of millions. But its greater significance lies in the fact that The Beach Boys' songs have forever changed the musical landscape, profoundly influencing countless performing artists to follow.
The Beach Boys are led by Mike Love and Bruce Johnston, who, along with Jeffrey Foskett, Tim Bonhomme, John Cowsill, Keith Hubacher, Christian Love and Scott Totten continue the legacy of the iconic American band.
Captained by Mike Love, The Beach Boys play an astoundingly busy schedule of concerts, averaging 150 shows a year, ranging from sundrenched summer festivals to gala New Year's celebrations and special events across the globe.
The Beach Boys have continued to create and perform with the same bold imagination and style that marked their explosive debut over 50 years ago. Join us as they perform your favorites including, "Good Vibrations," "Barbara Ann," "I Get Around," "Help Me Rhonda" and "Surfin' USA!"
Show starts: 8PM
*Ending times may vary.
Tickets:
Star – $75
Select – $65
General – $40
Tickets go on sale Monday, March 11 at 9AM.
NOTE: SHOOTING STAR DOES NOT ACCEPT TICKETS PURCHASED THROUGH OUTSIDE COMPANIES.
All Ticket Sales are final.
Guitars From The Stars
Win one of ten $100 drawings or an autographed "Guitar from the Star" after the show!
Register any time the day of the show by bringing your ticket stub to Star Rewards. Must be actively playing using your Star Rewards card. Drawings held after the show.
See Star Rewards for details. Based on availability. If autographed guitar is unavailable, winner will receive cash prize.