Warrant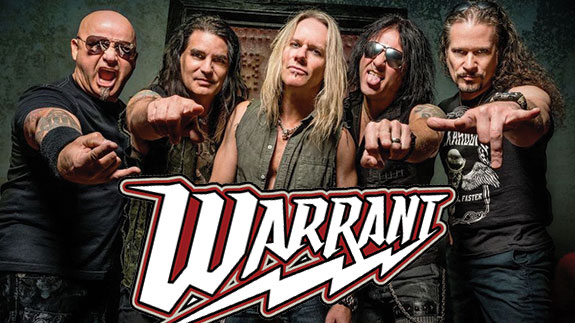 At its core, WARRANT is an American rock band through and through. Hitting it big in 1989, the Hollywood, CA based band rose through the ranks of the local Sunset Strip scene to the level of multiplatinum selling, chart-topping success. The band first came into the national spotlight with their debut album Dirty Rotten Filthy Stinking Rich. This album produced Radio and MTV chart toppers "Down Boys," "Sometimes She Cries," and the massive hit "Heaven" which reached #1 in Rolling Stone and #2 on the Billboard Hot 100 for two weeks in a row.
WARRANT's sophomore album Cherry Pie was released in September 1990. This album, which spawned the MTV & Radio hits "Cherry Pie," "Uncle Tom's Cabin," and "I Saw Red," all reached the Top 10 in the United States and went on to sell 3 million copies, reaching Platinum sales in Canada and Australia. Over the course of their career, WARRANT has sold over 10 million albums worldwide. The song "Cherry Pie" has taken on a pop culture life of its own, being featured in countless movies, TV shows, commercials and the hugely popular video game Guitar Hero II.
WARRANT has been headlining festivals, casinos and fairs all over the country in support of their latest CD Louder Harder Faster and the 30 year anniversary of their debut album Dirty Rotten Filthy Stinking Rich. These rockers can't wait to play not only ALL the hits fans know & love, but also new tunes/videos like "Louder Harder Faster" & "I Think I Will Just Stay Here & Drink."
Tickets on Sale Monday, September 20 at 9am.
Star | $41
Select | $30
General | $20